Valid between 1-24. December 2018.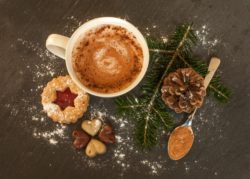 The travel is a much better experience in the most beautiful time of the year. Especially when you chose your target city to be as beautiful as Sopron. Exiting our gate, you will find yourself right in the downtown dressed up with holiday ornament, where you can have a quality specialty coffee or a hand-made cake beside admiring the Advent market. We reserve a guzzler meal for you as well in the homely Jégverem Inn.
Special package offer:
The package also includes:
2 nights accommodation in the chosen room type
abundant breakfast
free internet
Price of the package in the double-bedroom from: 32 € / person / night
The price also includes the VAT but the tourist tax must be payed extra (1,5 € / person / night).
For children (under age 12) further services beside the accommodation and breakfast can be required preferentially at the premises.
Calculation & Online Booking