With the arrival of the good weather we find it important to advice you an entertainig and active Program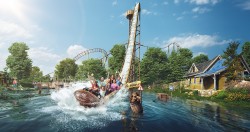 Are you looking for a perfect family program near Sopron? Entering the Family Park, you can fall into a fairytale world for the whole day!
Book a stay at the Hotel Palatinus and we will now provide you with discounted admission to one of Austria's most famous fairy-tale parks, the Familypark Neusiedlersee, located only 20 km from Sopron. As an added bonus, we also provide the family with the food necessary for the whole day's tour!
In addition to the 29 spinning, rotating and moving toys, the Familypark also offers countless other adventures, including an experience and water playground, climbing frames and a rope park, musical theater and interesting do-it-yourself activities for both young and old.
The price of the offer: EUR 35 / person / occasion (entrance and food package)
Opening hours: https://www.familypark.at/hu/nyitvatartas/
Book accommodation by clicking the button below, then select your tickets in the Services / Programs in Sopron and the neighbourhood menu item!
Travel to the location is done individually! (Recommended by car)
You will find the best prices guaranteed on our website!
Price Calculation & Online Booking