For the delight of our guests with a sweet tooth, Hotel Palatinus provides a discounted ticket to an exclusive chocolate tasting from the famous Harrer Chocolate Factory and Confectionery in Sopron.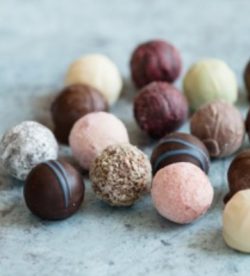 The sweetly secret world of chocolate-making is revealed in a pleasant environment: all you have to do is sign up for the chocolate tasting after booking your accommodation, which includes the following:
a sip of champagne with a truffle ball
short film about chocolate making
chocolate tasting
raw chocolate
dark chocolate
milk – and white chocolate
different flavored chocolates
chocolate fountain with fresh fruit
chocolate drink tasting
Discounted prices:
Adult ticket: HUF 4,500/person
Children's ticket (ages 4-15) HUF 3,600/person
Admission is free for children under 4 years
Tasting times: Monday to Saturday at 10.00 and 14.00, Sunday at 10.00 (according to opening hours)
Our reception will arrange the selected time for you.
*The patisserie can be reached by car in 5 minutes from our hotel, the trip is made individually or you can ask for our taxi offer.
To book the service, click the button below, enter the date and room type, then select from the services of Programs in Sopron and around!
You will find it guaranteed at the best price on our website!
Price Calculation & Online Booking