Validity: through the whole year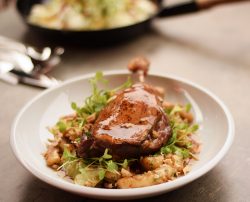 Discover the gastronomical specialties of Sopron as part of a trip. Your accommodation is provided by Hotel Palatinus which can be found in the heart of the downtown, and your rich dinner is served in Jégverem Inn, located in the old poncichter-quarter.
Our partner restaurant is not only famous for its quality and guzzler portions. The building of the old ice-house of the town has reborn as an inn, keeping the traditional wooden beam features. Its cozy inner halls and garden makes the inn just as unique as the ice-house inside the restaurant, which can be seen until this day.
Content: 10% discount to Jégverem Inn
You can find the current offer of Jégverem Inn at this link.
The restaurant can be reached in 15 minutes by foot.
To request the coupon, click on the button below, enter the date and room type, then choose from the services in Programs in and around Sopron!
You are guaranteed to find the best prices on our website.
Price Calculation & Online Booking