Are you organizing your trip to Sopron? Take part in an exciting, non-everyday adventure!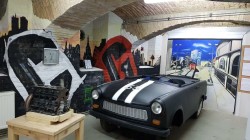 Put
yourself to the test by disarming a bomb, getting out of jail, or breaking a car. In the repertoire of
Crazy Garage in Sopron, the creativity of the participants and their ability to think in a team are
measured by various escape rooms and logical adventure games. 60 minutes are available to sove the
puzzles, which are available from couples to families to larger team builders as well.
Click here for a description of each room!
https://sopron.crazygarage.hu/szobak- Reservation
Our special offer:
• participation in any logic game – our reception will make an appointment for you *
Discounted prices:
2 people: 7,200 HUF
3 people: 9,000 HUF
4 people: HUF 10,800
5 people: HUF 12,600
6 people: HUF 13,500
7 people: HUF 14,400
8 people: HUF 15,300
Book accommodation and let our reception know which game you would like to play and at what time!
Contact details of our reception:
+36 99 788 228
info@civitashotel.com
Opening hours:
Monday to Thursday: 10:00 to 20:30
Friday – Saturday: 10:00 – 20:30
Sunday: 10:00 to 17:30
You are guaranteed to find the best prices on our website!
* Crazy Carage is located a 5-minute walk from our Hotel.
Price Calculation & Online Booking