Valid until: 31. December 2020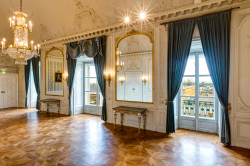 Surprise your sweetheart with an exciting getaway in Sopron, where we provide you the opportunity to get to know the Esterházy Mansion in Eisenstadt. All of our female guests will feel like a real princess from this experience. One of the most beautiful baroque mansion in Austria provides a home for museum, research center, and the unique private collection of the Esterházy family. Enjoy the magic of the place, which was the venue for many historical events, and where Nelson admiral listened to Haydn's music once.
Special offer of the package:
Mansion tour with guidance*
(in the given time)
Our package also offers:
2-night accommodation in the chosen room type
abundant buffet breakfast
free internet
The price of the package in the double-bedroom: from 30 € / person / night
English guidance:
2nd of January – 31th of March 2020.
Friday – Sunday
13.30
1st of April – 1st of November 2020.
Friday – Sunday
13.30
2nd of November – 31th of December 2020.
Friday – Sunday
13.30
For children (until age 12) further services can be required preferentially at the premises.
The price of the package includes the VAT, but the tourist tax must be payed preferentially (1,7 € / person / night).
*The Esterházy Mansion is located in Eisenstadt (Kismarton). It can be reached within 25 minutes by car from Sopron, the travel is organized individually or you can ask for our taxi offer.
Book directly with the best prices!
Calculation & Online Booking