Have you ever been above the clouds beside looking outside from a window of a plane?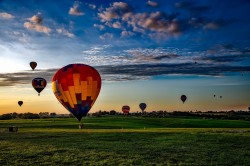 Fly above forests and meadows in a basket of a hot-air balloon. You can experience the extraordinary program with the Beauty Fly Ballooning team, competing as the second place winner in Hungary, raising the adventurous above 1000 metres, from where even the Balaton can be seen in clean weather.
The program is the following:
transfer from the gate of the hotel until Újkér, where the take-off takes place
setting up the hot-air balloon (you will have the chance to take part in this too)
about 1-hour flight, while we are taking photos and videos, which we will be provide to our guests after the program
after the landing you will receive your "First Flight" certificate and a glass of champagne
transfer back to the gate of the hotel
Duration of the program: 3-4 hours
Max number of participants: 4 person (5 person in case of underage)
Guide price (can change in case of underage):
1 person: 190 €
2 person: 260 €
3 person: 290 €
4 person: 390 €
The price must be payed with the room invoice.
The price includes the above written services and travel insurance for each person.
Book an accommodation then contact our reception with your request for the hot-air balloon tour on the contacts below:
+36 99/523 816
info@palatinussopron.com
Our colleagues will give you a price offer and available dates to book, then they will organise the program for the date you chose.
Important information:
We remind our guests that the program can not be organised in case of bad weather conditions (wind, rain, fog). It can also happen that the program must be cancelled right before the take-off. In this case we will try to offer you a new appointment during your residence as far as it is possible, however the flight also can be deleted because of this. In this case we do not charge any cost.
It is recommended to wear closed shoes and warm, comfortable clothes.
You are guaranteed to find the best prices on our website.
Chose the date and room type and check our actual offer:
Price Calculation & Online Booking