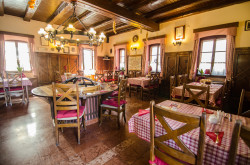 Discover the gastronomical specialties of Sopron as part of a trip. Your accommodation is provided by Hotel Palatinus*** which can be found in the heart of the downtown, and your rich dinner is served in Jégverem Inn, located in the old poncichter-quarter.
Our partner restaurant is not only famous for its quality and guzzler portions. The building of the old ice-house of the town has reborn as an inn, keeping the traditional wooden beam features. Its cozy inner halls and garden makes the inn just as unique as the ice-house inside the restaurant, which can be seen until this day.
Halfboard Offer
Soups:
Basil tomato soup with mozzarella
Classic Sunday lunch soup with vegetables
Beef goulash with pinch
Main courses:
Blue ribbon turkey breast filled with smoked ham and smoked cheese, with French fries and Jasmin rice
Chicken breast with oatmeal, sweet potato and BBQ dip
Marinated pork chop in Wiener coat, French fries
Roast a la Bravos, seasoned potato
Beef stew with red wine, Hungarian-style, with wild garlic dumplings
Fried cheese with Jasmin rice, tartar sauce
Green seasoned catfish fillet baked in butter, bulgur with dried tomato
Fish & Chips, sour cream with garlic, BBQ dip, steak potato
Desserts:
Steam-noodle with buttered poppy-seed
Somló-style Sponge Cake
In case of food allergies, ask for our individual offer!
Click the button: Booking, and after you choose date, you can see our half board prices!