Book your accommodation in the heart of the city, at the Hotel Palatinus****, and then take Sopron by the shoulders!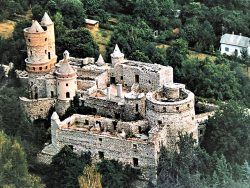 In addition to exploring the city center, we will also take you to a hidden corner of Lőverek, where a medieval castle towers over the family houses, hidden behind the dense foliage. István Taródi, a great lover of castles, started building Castle Taródi with his own hands in the 1950s, which is today the most famous work of visionary architecture in our country.
After the death of its builder, his descendants took over the management of the castle, who are constantly working to make the wings, which are still closed today, open to visitors. Most of the building is still open for audience, so you can visit the inner courtyard, a small museum, various authentic rooms, a gift shop and the balcony on the second floor, which offers a wonderful view of the wooded hills surrounding Sopron.
Our offer:
• Discounted entrance ticket to Castle Taródi *
Prices:
Adult: HUF 700
Child/pensioner: HUF 500
Opening hours:
April – October
10.00 a.m. – 6.00 p.m
November – March
10.00 a.m. – 4.00 p.m
*The castle is located on the outskirts of Sopron, at the top of Nándor Hill, which can be reached by car in 5-10 minutes from our hotel, and there is also a parking lot nearby. The attraction can even be reached on foot through a pleasant half-hour exploratory walk.
Book directly at the best price!
To book the service, click on the button below, enter the date and room type, then choose from theservices in Programs in and around Sopron!
Price Calculation & Online Booking