Book your room at the Hotel Palatinus, located in the heart of Sopron's old town, from where the city's most famous attractions are literally a few minutes' walk away!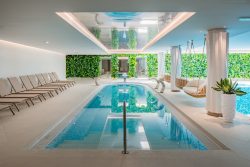 Active rest is completed by a little pampering, so we provide our guests with a unique entry option to the renewed wellness department of our partner, Hotel Fagus, at a discounted price!
In the Spa world with a unique atmosphere, a swimming pool (6×12 m), an adventure pool and a children's pool guarantee perfect refreshment. Relaxation after bathing is facilitated by an exclusive relaxation area and hammocks, and in the sauna world a Finnish sauna, aroma sauna, ice well and special heated bench, a devil's sauna, infrared sauna, steam cabin, heated relaxation bench and hydromassage shower also serve to refresh our guests. The entrance fee includes the use of the hotel's fitness room.
Our offer includes:
discounts 4-hour entrance to the wellness section of the Fagus Hotel in Sopron, every day between 8:00 a.m. and 4:00 p.m.
Prices:
Sunday – Thursday: HUF 2,520/person/occasion
Friday – Saturday: HUF 3,600/person/occasion
More information:
The entrance fee includes the use of the dressing room. If required, towels and bathrobes can be rented on site for an extra fee:
– Towel – Rental price: 950 HUF; Deposit: 5 000 HUF
– Bathrobe – Rental price: 1 500 HUF; Deposit: 10 000 HUF
Entry to the wellness centre is subject to registration, so please let our reception know the day you would like to request your entry after booking the accommodation. The program is not guaranteed until we confirm the date.
The Fagus Hotel can be reached by car in 7-8 minutes and provides discounted parking for our guests, and free public parking lots are available nearby. The two hotels are easily accessible by local bus, whose timetable you can ask at the reception.
To book the service, click the button below, enter the date and room type, then select from the services of Programs in Sopron and around!
You will find the best prices guaranteed on our website!
Price Calculation & Online Booking