Are water programs a big favorite in your family?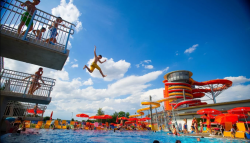 Visit Sopron with the kids, relax in our hotel, in our family-friendly apartment, and we'll give you a discount coupon for the biggest family adventure pool in the area, the Sonnentherme in Lutzmannsburg!
Here, the smallest are the biggest and children's hearts burst or slide straight into their swimsuits. The experience sections in the Sonnentherme experience bath guarantee not only relaxation, but also top-notch entertainment.
Baby World department. The wellness oasis awaits the little ones with pools specially designed for babies with a water temperature of 35°C and an air temperature of 27°C, and in summer the baby beach invites you to splash around, with a sandy beach and shaded beds. Countless extras such as strollers, changing rooms, bedrooms, playrooms and baby kitchens guarantee a relaxing holiday. "Fun & Speed ​​World" provides fun and adventure for older siblings. Thanks to the 900-meter slide experience, wave pool, wild stream and many other attractions, boredom has no place in the Sonnentherme. What's more, on the 202-meter-long Twister slide, guests over the age of 7 can immerse themselves in 3 fascinating worlds on the world's longest indoor slide and Austria's 1st virtual reality slide! From the jumping tower, you can splash into the deep from 1, 2, or 3 meters. On the other hand, those who prefer to go higher can venture up the three-meter-high climbing wall – a wet arrival in the outdoor "Splash" pool is guaranteed. With virtual reality diving, you can experience the weightlessness of the underwater world and outer space. The newest attraction is the 5D water adventure cinema.
Contents of our offer:
Discount coupon for the all-day admission to the Sonnentherme experience bath:
Entitles you to a €1 discount on an adult ticket and a 50 cent discount on a child ticket
You only have to pay on the spot, upon entry. Here you will present the coupons given by our reception.
Click here for the current price list!
You can find out about the opening hours of the spa by clicking here.
The spa is located in the town of Lutzmannsburg (Locsmánd), which can be reached by car in 35-40 minutes from Sopron, to which the trip is made individually, or you can ask for our taxi offer.
To request the coupon, click on the button below, enter the date and room type, then choose from the services in Programs in and around Sopron!
You will find the best prices guaranteed on our website!
Price Calculation & Online Booking