Be our frequenter!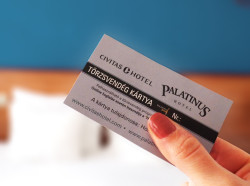 Is it the third time you visit our hotel?In this case we are happy to inform you that you are entitled to claim our frequenter card. As a frequenter:
you can book at the best prices,
you will get 15% discount from the room price each time,
the discounts are valid in our partner hotel, in Hotel Civitas*** as well.
Ask for the frequenter card application form at our reception or write an email to info@palatinussopron.com.
Price Calculation & Online Booking