Book your accommodation in Hotel Palatinus Sopron and we will organize your castle visit also.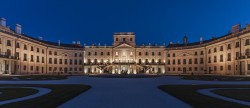 The Eszterházy Castle in Fertőd is one of the most astounding sight in Hungary. The special architectural and historical monument gained its present form in the second half of the XVIII. century, based on the ideas of Miklós Eszterházy "Fényes".
Going through the rooms adorned in Rococo and Baroque stlyes, the visitors can admire the Summer Dining Hall, decorated with stucco garlands; the Sala Terrena, formed as a winter garden; the Haydn Hall, the former place of luxurious concerts, where the famous eponym officiated for two decades; or the Lakk cabinet inspired by the Far East.
Special offer:
Castle tour with guided tour (~ 60 min)*
Price: 9.900 HUF / person

Opening times and guided tours:
http://www.eszterhaza.hu/programok/muzeumi-menetrend

Choose the date that suits you and our reception going to register it at the castle.
*The castle is located in Fertőd, which can be reached in 30 minutes by car from Sopron. The trip is organized individually or you can ask for our taxi offer.
Book directly for the best prices!
Choose the date and room type and check the Programs in Sopron and the neighbourhood to reserve this program:
Price Calculation & Online Booking