Discover unique stories and objects around every corner at this historic site.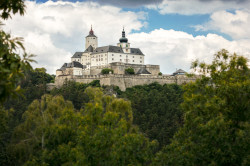 Step into the inner courtyard for your first breathtaking surprise: the largest secco murals north of the Alps. Your tour of the castle begins with the oratory and the chapel on the first floor. Within the mighty walls of the stronghold you can explore over four hundred years of military history. The collection of weapons is one of Europe's largest private armouries and offers insights into a long military tradition and the Esterházy family's loyal service to the Habsburgs.
Forchtenstein Castle, Burgenland's imposing landmark and one of the oldest museum sites in Europe, has long served as a "strongbox" for the Esterházy princes' exquisite treasures and as a depot for military equipment. Visit the armoury with its holdings that cover over four centuries of history. Further highlights on this tour include areas like the kitchen and bakery convey an impression of daily life at the castle in the past. At the end of the tour, take a look down the well. A staggering fifty metres deep, it was once essential for survival at the fortress.
Special offer:
Mansion tour with guidance* (in the given time)
Daily guided tour:
April – October
german: 10:00 | 12:00 | 14:00 | 16:00
hungarian: 11:00 | 15:00
english: 13:00
January – March & November – December
german: 11:00 | 13:00
Saturday & Sunday & Holidays
german: 11:00 | 13:00 | 15:00
Tickets guided tour: 18€ / person
*The Forchtenstein Castle is located in Forchtenstein (Austria). It can be reached within 45 minutes by car from Sopron, the travel is organized individually or you can ask for our taxi offer.
Book directly with the best prices!
Choose the date and room type and check the Programs in Sopron and the neighbourhood to reserve this program: